Conversation Brings
Happiness to
YOU
Video: School Life at AccoLa Japanese Academy
Conversation Brings
Happiness to
YOU
Accola Japanese Academy
in Maebashi City, Gunma Prefecture
At AccoLa Japanese Academy, which started in 2016, we have been able to meet many international students. We not only teach the language of Japanese, but we also consider it as one of our important educational policies that students can become grateful members of society even after graduation.
Studying abroad is one of life's great courageous challenges.
The people you meet there may be people you'd never meet without your own courage.
Learning new words in Japanese at school, living together in a dormitory, and striving for personal growth every day is what it means to be a student at AccoLa.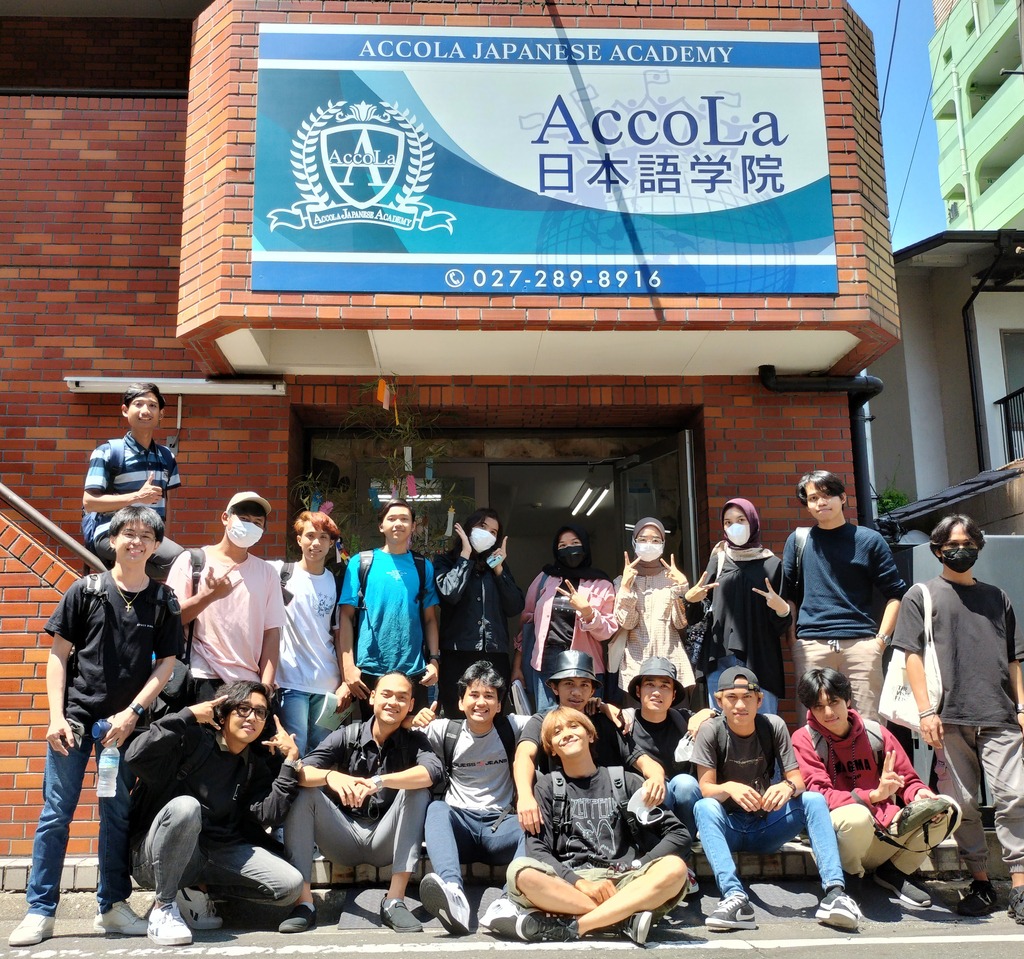 Student Capacity Factor
(as of August 2023)
At AccoLa Japanese Academy, we place students in classes according to their individual comprehension level.Remember what you can expect to learn in each class.If you want to know more about the process of graduation, click More.
For students who are just starting to learn Japanese, we focus on conveying more precise grammar in an understandable way.
Simple everyday conversations
Start studying honorifics language
By understanding the correct grammar and applying many expressions, you will be able to speak natural Japanese.
Daily conversation that conveys purpose
JLPT Test Preparation Classes
You can acquire multidisciplinary vocabulary and expressions by reading a lot of raw materials (newspapers, magazines, etc.) while developing your synthesis skills.
Gain the Japanese language skills to handle many real-life situations.
Acquiring plural vocabulary and expressions
It is important to decide the course and admission time according to your Japanese ability, so we recommend that you choose a course based on your ability.
Please take your time and be thorough when filling out the application form, as incorrect information may prevent you from meeting your admission date.
Once the payment is confirmed, we will send the original Certificate of Eligibility and acceptance letter to the student, and the date of admission will be determined.
About studying
abroad in Japan
Gunma is one of Japan's most naturally beautiful island nations, with the fewest natural disasters and the lowest cost of living.Akagiyama in Maebashi, where you can see the natural phenomenon of clouds, is also an attractive place to recharge not only for locals but also for international students who are always working hard.
See the schedule until graduation
※Video Quotation:https://www.maebashi-cvb.com/
At my school, we offer four courses to learn Japanese.
Each program has a different length and cost, so please check the length and cost of your program.
If you're not sure how long you'll be studying for, we have a dedicated student support line, so don't hesitate to ask.
1 Year 3 Months
Short-term courses
What Accola Japanese Academy students enjoy outside of studying Japanese
A peek into life in Japan
How was your summer vacation? Did you go to festivals and mountains? Did you see fireworks or the sea? Although
We will start "Japanese Language Learning Support Volunteer Training Course"! [Deadline: September 25 This is a hybrid online and in-person
Hello, this is an announcement from the Accola Japanese Academy We are currently at capacity and will no longer be
To International Students
Our hearts go out to you
At AccoLa Japanese Academy, we have Japanese teachers who teach Japanese in an easy-to-understand and polite manner, and foreign staff who support international students from all over the world so that they can live in Japan with peace of mind.
Everyone is committed to helping international students improve their Japanese and enjoy their time in Japan.
Are you ready to take the next step toward your future career?